Sélectionnez la catégorie de News Maths-fi :


Les brèves Maths-fi du 12/01/2012.
Maths-Fi vous souhaite une excellente journée et vous propose cette semaine :



Nouveau !



Rejoignez le réseau Maths-Fi sur linkedin!
Cliquer ici pour en savoir plus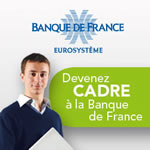 Concours Banque de France 2012 Recrutement Cadres : Rédacteur (Paris, Région Parisienne) - Inscriptions ouvertes du 03 janvier 2012 au 02 février 2012 inclus
Conditions :
vous êtes scientifique, économiste, comptable, juriste - Bac+3 à Bac+5.
Vous êtes ressortissant(e) d'un pays membre de l'Union européenne ou d'un État signataire de l'accord sur l'Espace économique européen
Vous êtes engagé(e) dans votre dernière année d'étude ou avez une première expérience professionnelle. Vous souhaitez rejoindre une institution au coeur de l'actualité économique et financière et du fonctionnement de l'Europe.
Cliquer ici pour en savoir plus
---
News
The End of The China Cycle? How to successfully navigate the evolution of low cost manufacturing.
Source: rolandberger.com
'Une taxe unilatérale sur les transactions financières serait inefficace et contre-productive pour l'économie française'
Source: fbf.fr

The Impact of the Global Crisis on South-Eastern Europe
Emidio Cocozza, Andrea Colabella, and Francesco Spadafora
Source: IMF

A tale of three countries: recovery after banking crises
Zsolt Darvas
Source: bruegel.org
---
Agenda
University Paris Diderot - Quantitative and Statistical Finance - 25th birthday of the master program 'M2 Modélisation Aléatoire'


March 1-2, 2012

- Paris
Location:
University Paris 7 Diderot, Site Paris Rive Gauche, Amphithéâtre Buffon, Paris
This two-day workshop aims to bring together the academics and practitioners at the forefront of quantitative, statistical and computational finance, and to discuss the recent progress in these fields.
A special session will be dedicated to the 25th birthday of the master program 'M2 Modélisation Aléatoire' (ex-DEA Laure Elie) in Paris-Diderot University, joint with Paris Sorbonne University, ENSAE and Télécom Paris.
The participation is free but the registration is mandatory (registration deadline: January 31, 2012.
More information...
---
Opération 2 pour 1 'soldes d'hiver' Maths-Fi : coup de froid sur nos tarifs !
Pour toute commande passée
avant le 31 janvier 2012 inclus
, Maths-Fi vous offre :
un mois supplémentaire

OU

une 2nde annonce à diffuser pendant votre mois d'abonnement



Derniers jours Bonus Lucky 13

: pour toute commande passée (offre d'emploi) avant le

vendredi 13 janvier 2012

, Maths-Fi vous offre 1 mois supplémentaire

ET

la diffusion

d'une 2nde annonce pendant votre abonnement

!
Renseignez-vous vite !
Plus d'informations sur l'offre 2 pour 1 et la promotion "Lucky 13"
---
Ils recrutent sur Maths-Fi
---
---
Finance d'entreprise, comptabilité, assurances... diffusez vos annonces sur BFA Emploi !

Plus d'informations sur BFA Emploi